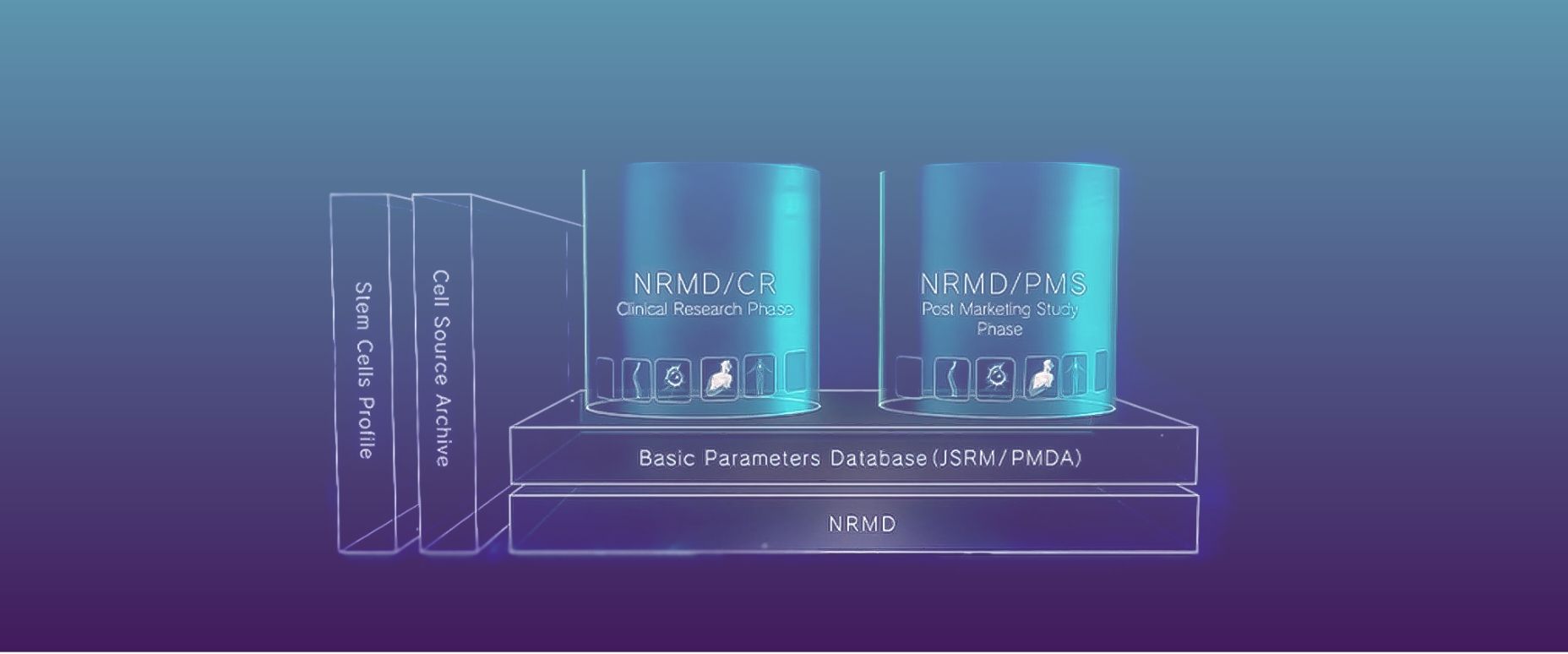 ABOUT NRMD

Seamless Development Flow
The advancements in regenerative medicine are anticipated to draw attention toward the development of a system that consolidates and utilizes valuable data from studies performed from pre-marketing to post-marketing phases.
Data gathered from pre-marketing to post-marketing phases of clinical research would promote a new development avenue that would lead to the establishment of an appropriate evaluation method for novel regenerative medical products by validating the data.
Against this background, the Japanese Society for Regenerative Medicine has established a large-scale clinical data registry, which called the "National Regenerative Medicine Database (NRMD)".
NRMD enables seamless translational/reverse translational research from clinical investigations to post-marketing studies, by acquiring real world evidences from all clinical cases, to evaluate their safety and efficacy.
*TR=translational research
rTR=reverse translational research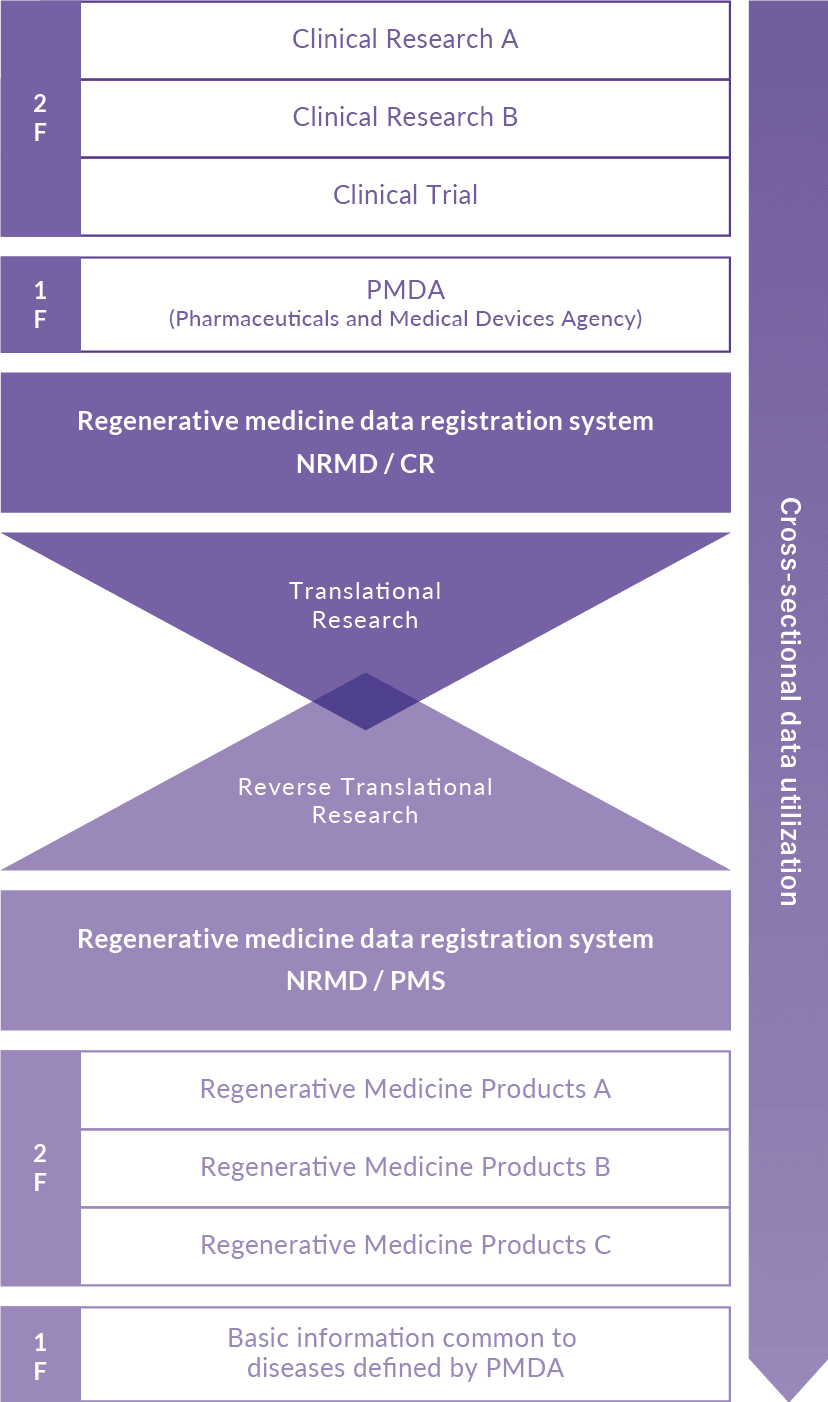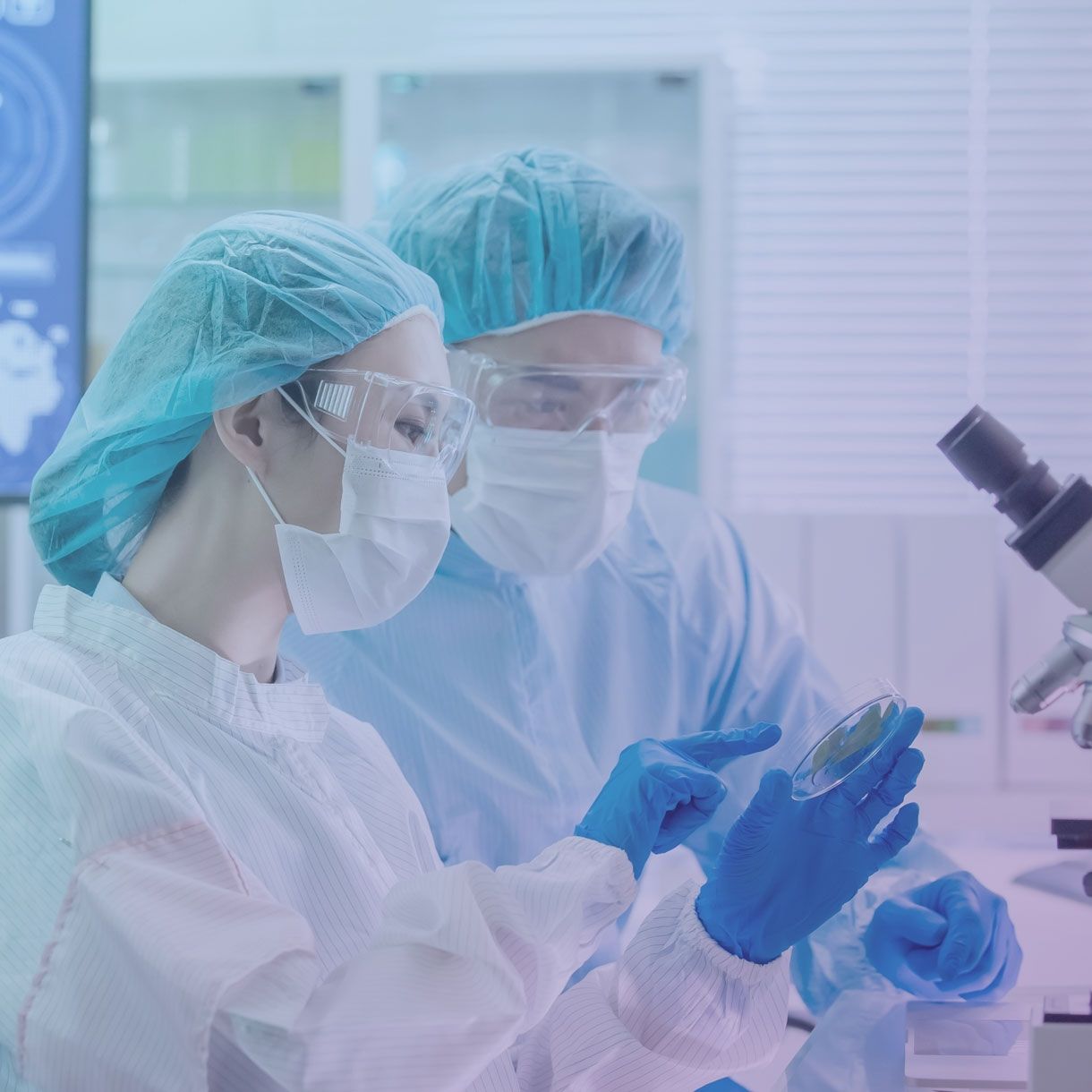 POINT 01

Operated as a public-private sector collaboration, the NRMD supports the safe, steady, and speedy development of regenerative medicine.
Revision to the authorization system for regenerative medicine products
NRMD is an integrated public-private sector database developed jointly with PMDA and operated with the cooperation of The Japanese Association of Medical Sciences. The Pharmaceuticals and Medical Devices Act (PMD Act) enacted in November 2014 revised the authorization system for regenerative medical and related products in order to achieve rapid practical application. Under this system, the efficacy of regenerative medical or related products is estimated and if their safety is recognized, products are granted special, rapid authorization with conditions and a time limit attached (conditional/time-limited authorization), widening the possibility for accelerated practical application.
Collection and evaluation of PMS data is key
Under this conditional/time-limited authorization system, a product's efficacy is estimated in a short time frame based on a limited number of cases, allowing safety to be evaluated on a short time schedule, such as acute side effects. However, due to reasons including product non-uniformity, manufacturing capacity, and applicable patient numbers, restrictions have been placed on collection and evaluation of clinical data. Accordingly, collaboration with affiliated societies and other organizations is required in order to design sound safety plans and steady collection and evaluation of data.
MHLW advocates R&D models that utilize NRMD
Japan's Ministry of Health, Labour and Welfare (MHLW) has advocated an R&D model for regenerative medicine and related products that utilizes JSRM's NRMD system to steadily collect and evaluate PMS data, with a notification issued by the head of the director of Pharmaceutical Safety Division, Pharmaceutical Safety and Environmental Health Bureau, MHLW, requesting that NRMD be used in PMS of such products.
(PSEHB/PSD Notification No. 0928-1, September 28, 2017)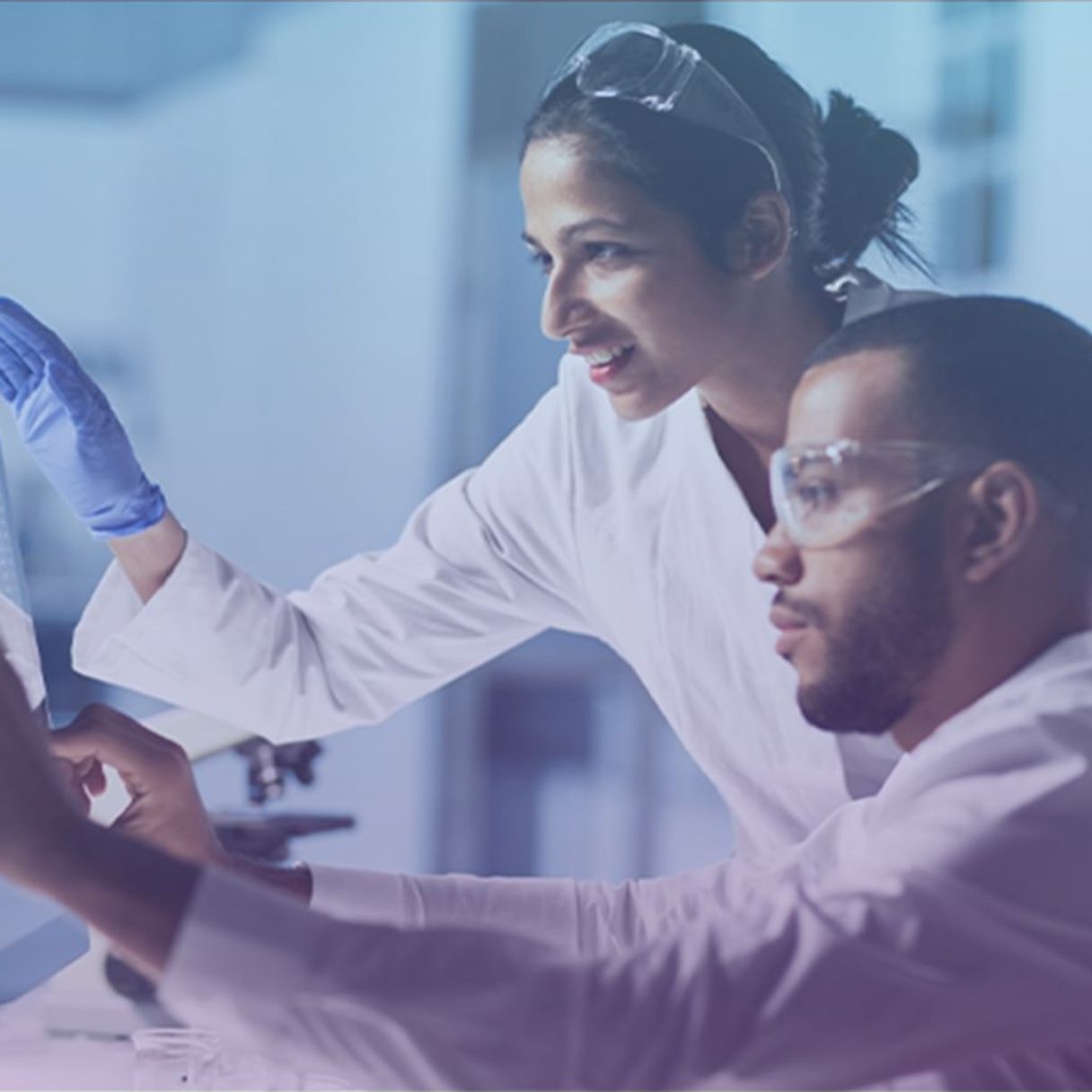 POINT 02

NRMD is a high-quality system that fulfills the regulatory requirements and practical standards required for CR and PMS.
Incompatible standards leading to divide between industry and academia
Japan's PMD Act and related laws require clinical data for pharmaceutical applications related to regenerative medicine and related products to comply with Good Post-marketing Study Practice (GPSP) and other standards. However, most public registries are not compatible with these standards, disqualifying a large amount of clinical data from being used in pharmaceutical applications. This has created a division between academia and industry, meaning that data gathered through academic endeavours is only used for academic purposes.
Compliant with Japanese/U.S./European regulatory requirements and practical standards
NRMD is comprised of two databases: NRMD/CR, which contains clinical research data including clinical trials, and NRMD/PMS, which contains data from the post-marketing studies phase. Centralized management of both databases allows lateral (interdisciplinary) utilization of data for translational research and reverse translational research purposes. In addition, NRMS is fully compatible with the GPSP Ordinance and CSV, and meets Japanese, U.S., and European regulatory requirements and practical standards related to clinical research, including those stipulated by the PMDA, ICH, FDA, and EMA.
CONTACT US

CONTACT
The Japanese Society for Regenerative Medicine Database Committee aims to further develop and improve the NRMD based on user feedback. We welcome any inquiries or opinions - if you wish to use the database or have any questions, please contact us.
Contact